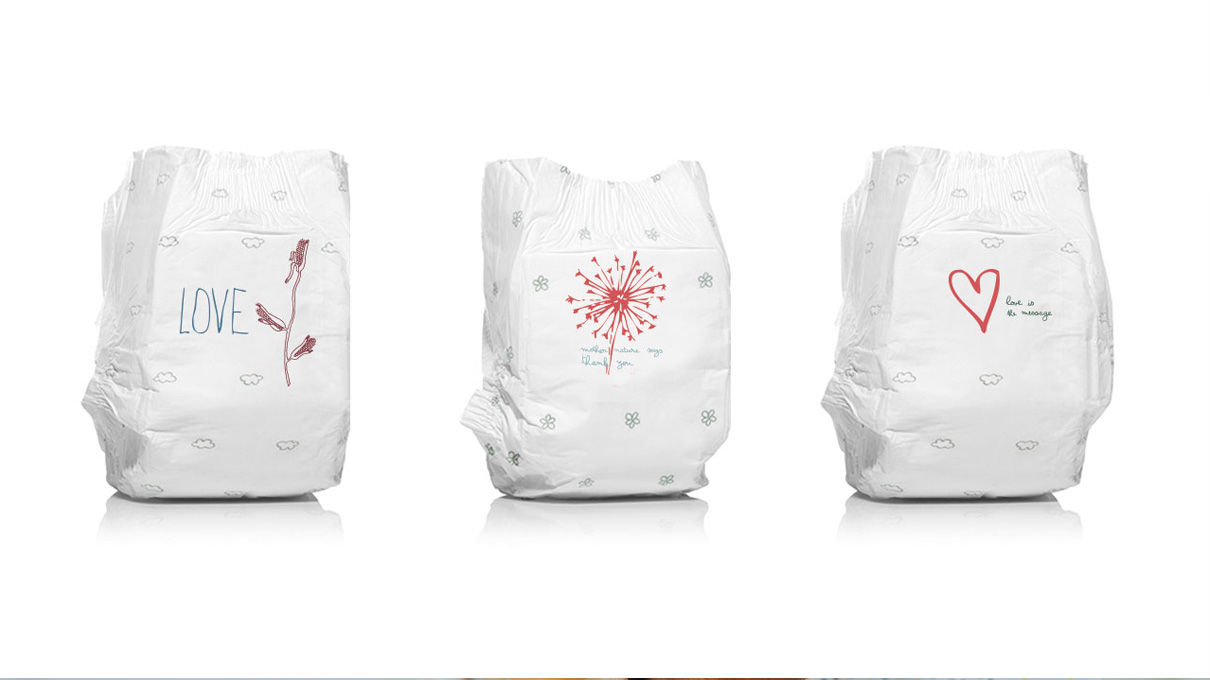 The Next Generation
If you follow us or use our diapers, you might have seen that we have a new generation of diapers
[1]
! There has been an air of mystery surrounding the latest generation, and lots of questions about the materials, where to buy it, and the new design. To keep our promise to you on being 100% transparent, we're sharing all the details of our fantastic new generation here!
Why a new Generation?
When Marlene started Naty her goal was not only to create an ecological diaper, but also draw attention to the severe environmental and health implications the use of oil-based diapers has
[2]
. She understood the importance of moving away from oil-based plastics considering the severity of the environmental impact they cause. Additionally, once learning about the harm some of the chemicals in the diapers have on babies, she knew she needed to make a difference, and create a plant-based diaper. Eco by Naty still holds true to this vision today!
Keeping in mind the concerns parents have shown towards certain nasty chemicals in diapers, we continue to find innovative ways to use plant-based materials and always ensure our diapers are nasty chemical free. We're the first diaper brand globally that uses only certified plant-based material against the baby's skin.
Naty was founded with the goal to create an 100% ecological diaper; this generation takes us one step closer to that goal.
So, what's new?
Our new generation of diapers are nasty chemical free
[3]
! After listening to your concerns on how rough our corn-based diaper felt, we have switched to a sugarcane-based diaper, which is not only renewable, but also much softer on your baby's skin. The leg cuff has been redesigned for a tighter fit, and we've added an anti-leak barrier so when your little one starts crawling there are no worries. Our new core is more absorbent and is stilled made from FSC certified wood pulp which can biodegrade within three to six months
[4]
. As always, we have continued to keep this diaper 100% free from perfumes. We've also adjusted some of materials in the velcro and tabs, so they are now 100% renewable as well!
The new design seen on the front of our diapers was done by Zoe de las Cases. She is a French illustrator, who has been creating fashion and decoration accessories since 2007. She has her own company along with her husband and launched a line of children's coloring books in 2015. Her illustrations can be seen on advertising and brands all over the world
[8]
. For our diaper she incorporated classic Naty motifs with innovative nature inspired drawings such as dandelions, ferns, and corn. Each diaper size has its own design, and the dyes used are free of heavy metals and not injurious to health. The diaper is still mostly white with one featured design per diaper size. The minimalistic look helps us stay true to our Scandinavian heritage, which we are proud of and want to share.
What really sets this generation apart is that there are only certified plant-based materials on baby's skin.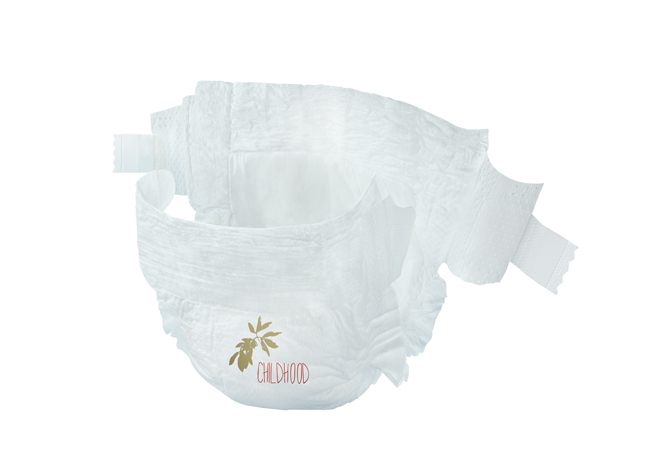 Certifications
To stay transparent, we always go after independent certifications, and this new generation is no different
[4]
. In addition to our diaper being an award-winning Premium Performance, we've been certified by Ok Biobased (formerly known as Ab Vincotte), Forest Sustainability Council and recommended by the Swedish Asthma and Allergy Association
[4]
. Over the years as Naty has grown rapidly we have come to realize our responsibility for the full product life cycle. This is why all of our packaging is now made of renewable materials, with certifications from AB Vincotte and BPI according to ASTM D6866, in order to prove this change
[4]
. All of the organizations hold the highest standard for ecological goods, as well as ensuring our diaper is healthier for your baby.

Renewable and Biodegradability
Our two-star Bio-based certification from Ab Vincotte indicates the percentage of renewable raw materials the product is made from. In our case we have a two-star rating which means our diaper is made from 40-60% bio-based raw materials
[5]
.
In the past our focus has been on producing the most compostable diaper. However, we have come to realize that it is not easy for our customers to safely compost our diapers unless they have access to an industrial composting system. In some places customers do have full diaper services, such as Earth Baby in San Francisco
[6]
who continue to work with us on safely composting our old generation of diapers, but it is still not commonplace. Sadly, since there is currently not a healthy or safe way for consumers to compost our diapers we've decided to no longer focus on this until the industries around it can be built up to safely compost a diaper. We're always working on this in the background, and hope that in the future there will be more facilities available for us to work with.
When do we Launch and where?
We're already selling the new generation on our website in all countries! If you're looking for a specific place to buy our new generation in store checkout our where to buy section on naty.com
[7]
!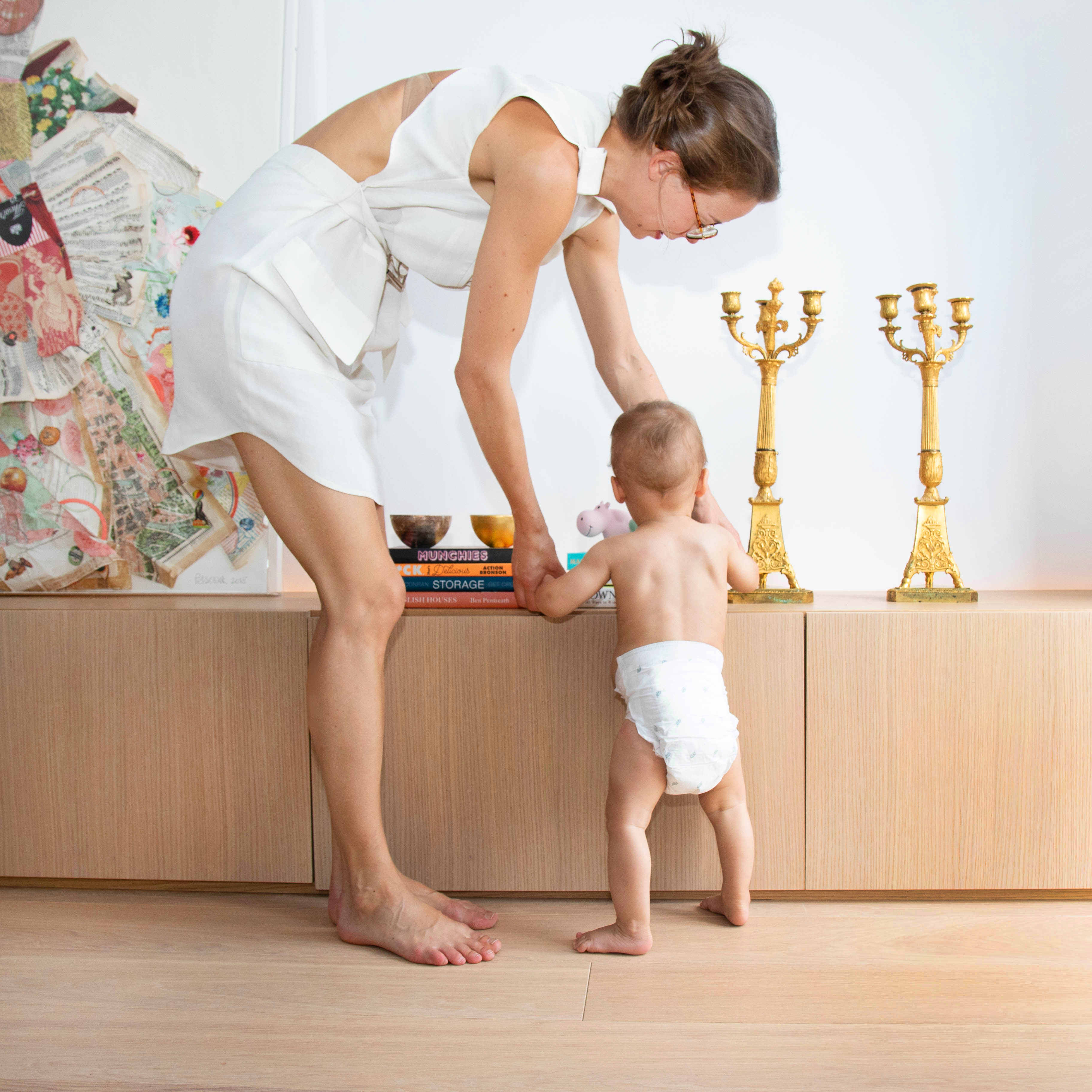 Last Updated: 2018.11.22
REFERENCES / READ MORE:
[1] Eco by Naty, 2018 [Online] Available at:
[LINK]
[2] Eco by Naty, 2018. "Why we should stop using oil based plastics" [Online] Available at:
[LINK]
[3] Eco by Naty, 2018 [Online] Available at:
[LINK]
[4] Eco by Naty, 2018 [Online] Available at:
[LINK]
[5] TÜV AUSTRIA OK BIOBASED, 2018, "OK Biobased Labeling Program" [Online] Available at:
[LINK]
[6] Eco by Naty, 2018 [Online] Available at:
[LINK]
[7] Eco by Naty, 2018 [Online] Available at:
[LINK]
[8] Zoe de las Cases, 2018. "We create for you" [Online] Available at:
[LINK]